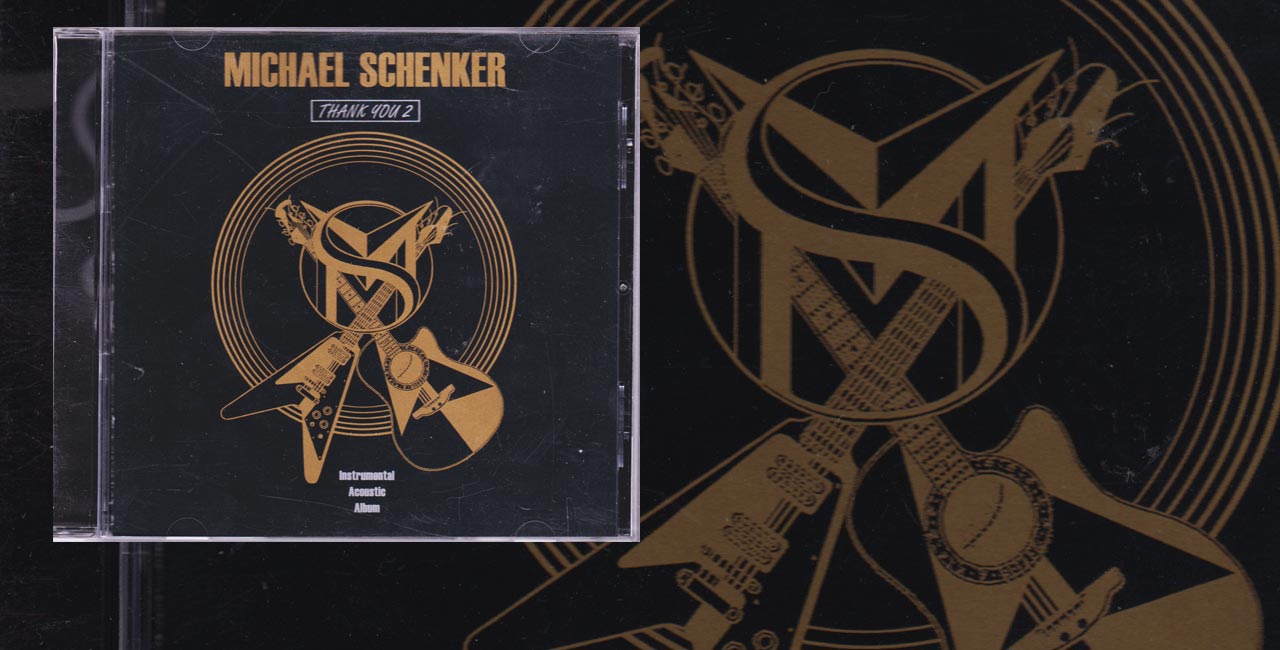 Thank you 2 was the follow-up to Michaels very successful acoustic instrumental album 'Thank You'. His record company, Positive Energy Records, later to become Michael Schenker Records wanted a design follow-up, five years on. The brief was to keep the Michael Schenker logo that I had originally designed for the 'Thank You' album and again to include another round of names from the MS fan club. This would help raise funds for the recording and production of CD's. Having worked closely with Michaels Manager, Bella Piper, various designs were discussed but nothing that captured my interest. Taking inspiration from the original 'Thank You' album - black and white, a reflection of Michaels Gibson and Ovation guitar patterns - I thought it would be great to actually 'invert' the album cover, so the blacks and whites were reversed except crucially the guitars themselves - I wanted these to remain as they were. The background would be black with white lettering. Michael loved this concept, which fitted into his vision and general outlook on life - Yin Yang. An iidea I had used for the UFO logo when Michael re-joined the group - splitting the 'UFO' letters into alternate black and white areas. This would also be subtle way of showing that Michael was part of the UFO line-up without having the tag line - UFO featuring Michael Schenker. However Michaels management insisted that the strap line was also used in many adverts but that's another story. The album artwork was accepted but decided that there wasn't time to get another NEW 1,000 names, so lets use those original names - so the visual contained the original 'Thank You' names: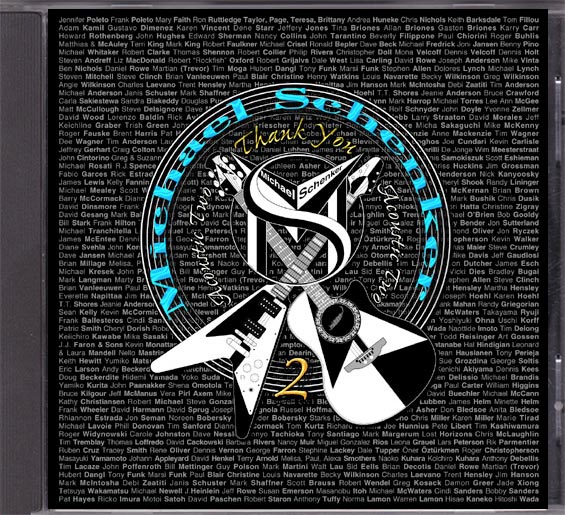 Thank You 2 would visually be the Yin Yang to the first one in look.
Michael was very much part of UFO and Bella approached SPV asking to release the album and promote on the back of UFO. After a period of time, the artwork was modified, not by myself but a third party and the 'essence' of the design was maintained. Black and Gold, all names were dropped and a simple 4 page cover booklet was created.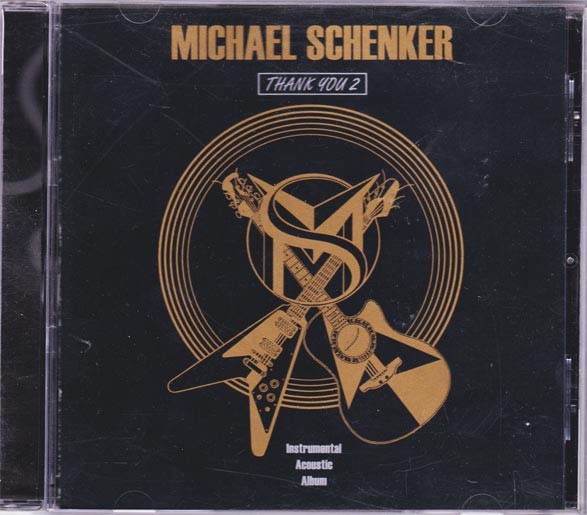 Crucially the guitar patterns were also inverted, which was the exact opposite to how I had invisaged and more imporatntly, how Michael wanted it - disappointing at the time but like any album cover, it becomes part of the release as time passes. Its all about the music and this is always what the fans buy the album for. No credit to me appeared on the packaging which again I put down to lack of communication from Bella, certainly not diown to SPV/Steamhammer who are always very careful and respectful to the copyright holders, in this case myself, Tristan Greatrex.



Michael Schenker - Thank You 'Special Mix' Visual, which was also submitted to Management - this clearly gave inspiration for the 'Thank You with Orchestra' release some years later!: