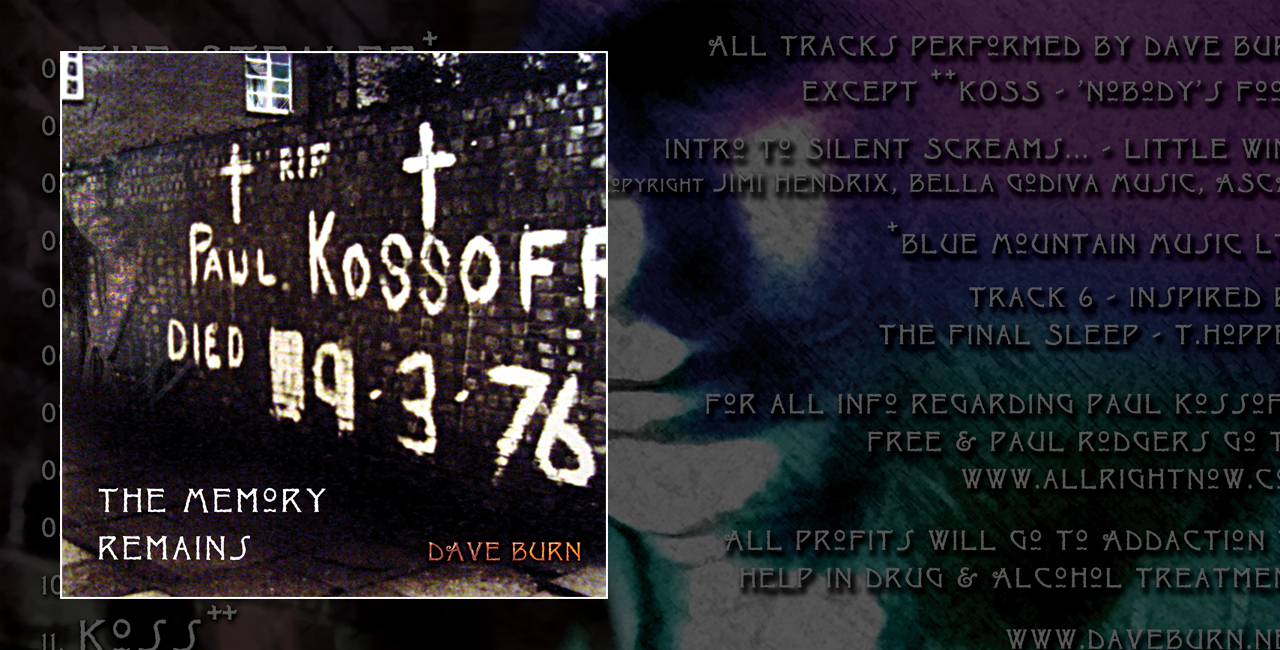 The Memory Remains
Artist/Band
Release Date
Dave had the perfect album cover in mind, a photograph - Dave tells the story below of how powerful that image was and still is to him. My job was to create the album packaging around this and everything fell into place, very quickly. I find when I am working and creating, it helps to listen to the related music. Truly inspirational and great work by Mr. Burn. Tastefully created and beautifully played, this is another masterclass.


The Memory Remains - 2006

01 The Stealer+
02 The Benz
03 David and Paul
04 Be My Friend+
05 Silent Screams
06 The Final Sleep
07 L.A. to New York
08 Mr. Big+
09 A Long Way Down
10. The Memory Remains
11. Koss++
All tracks Performed by Dave Burn
except ++KOSS - 'Nobody's Fool'
Intro to Silent Screams... - Little Wing
copyright Jimi Hendrix, Bella Godiva Music, ASCAP
+Blue Mountain Music Ltd
Track 6 - Inspired by
The Final Sleep - T.Hopper
For all info regarding Paul Kossoff,
Free & Paul Rodgers go to:
www.allrightnow.com
All profits will go to Addaction to
help in Drug & Alcohol treatment
www.daveburn.net
www.addaction.org.uk
www.beatsworking.tv/design.html
This album is dedicated to the memory of the immensely
talented Paul Kossoff One of my biggest Musical
Influences? The Memory Remains!
Thanks to Mam, Dad, Bernie,
Tristan, Kate, Paul H, Paul S, Geoff, Trev, Jim, Mick,
Martin, Lenny, Mick, Brian, The Tonys
Ritchie & April, Thank you all for the love and support and friendship.
Special thanks to Tristan, I owe you!! Lucy Piller & David Clayton
Guest appearance on +tracks 1, 4 & 8 by my good friend &
ol' mucker.. "The Guzzler"..Ritchie Bee. Thank you so much!!!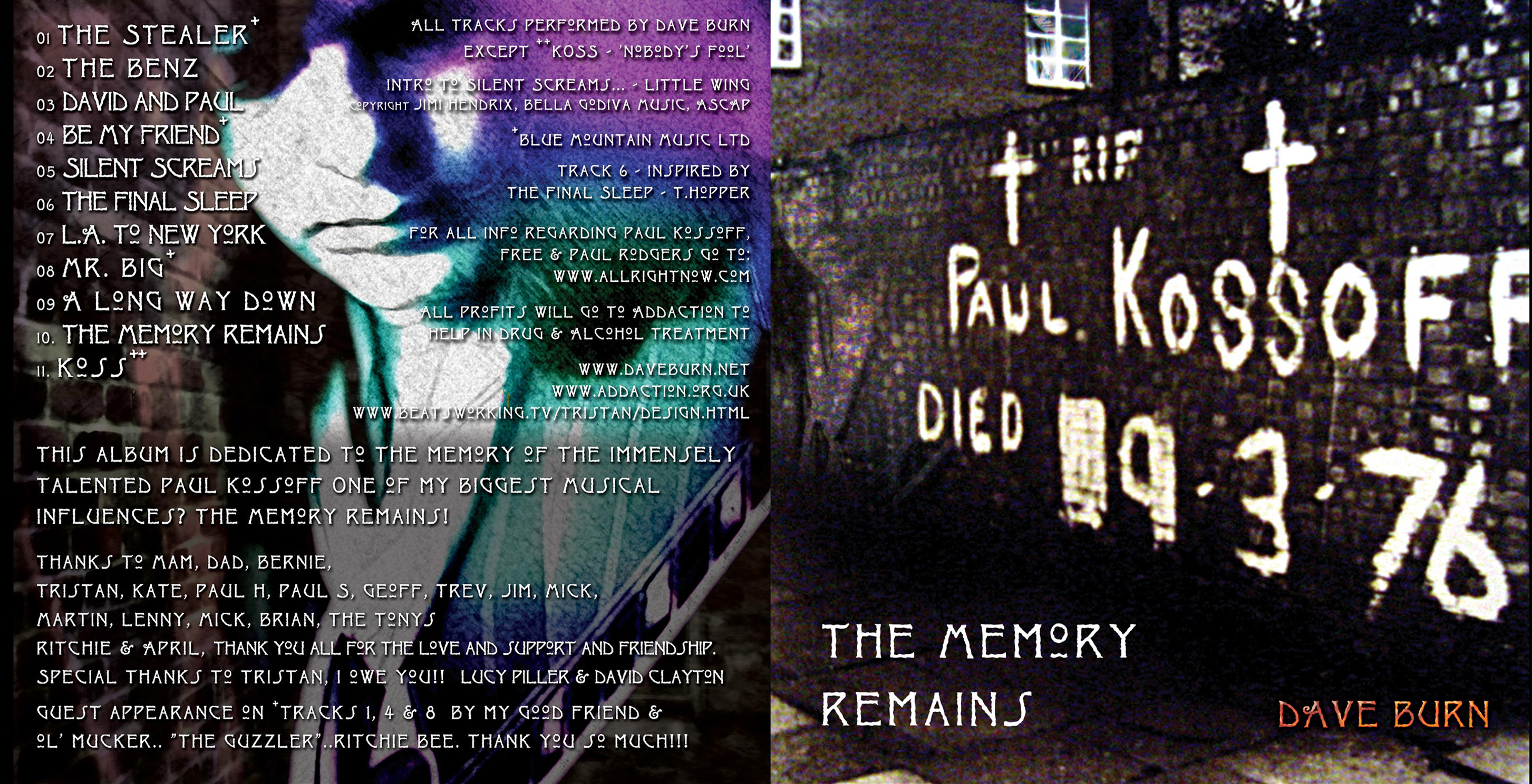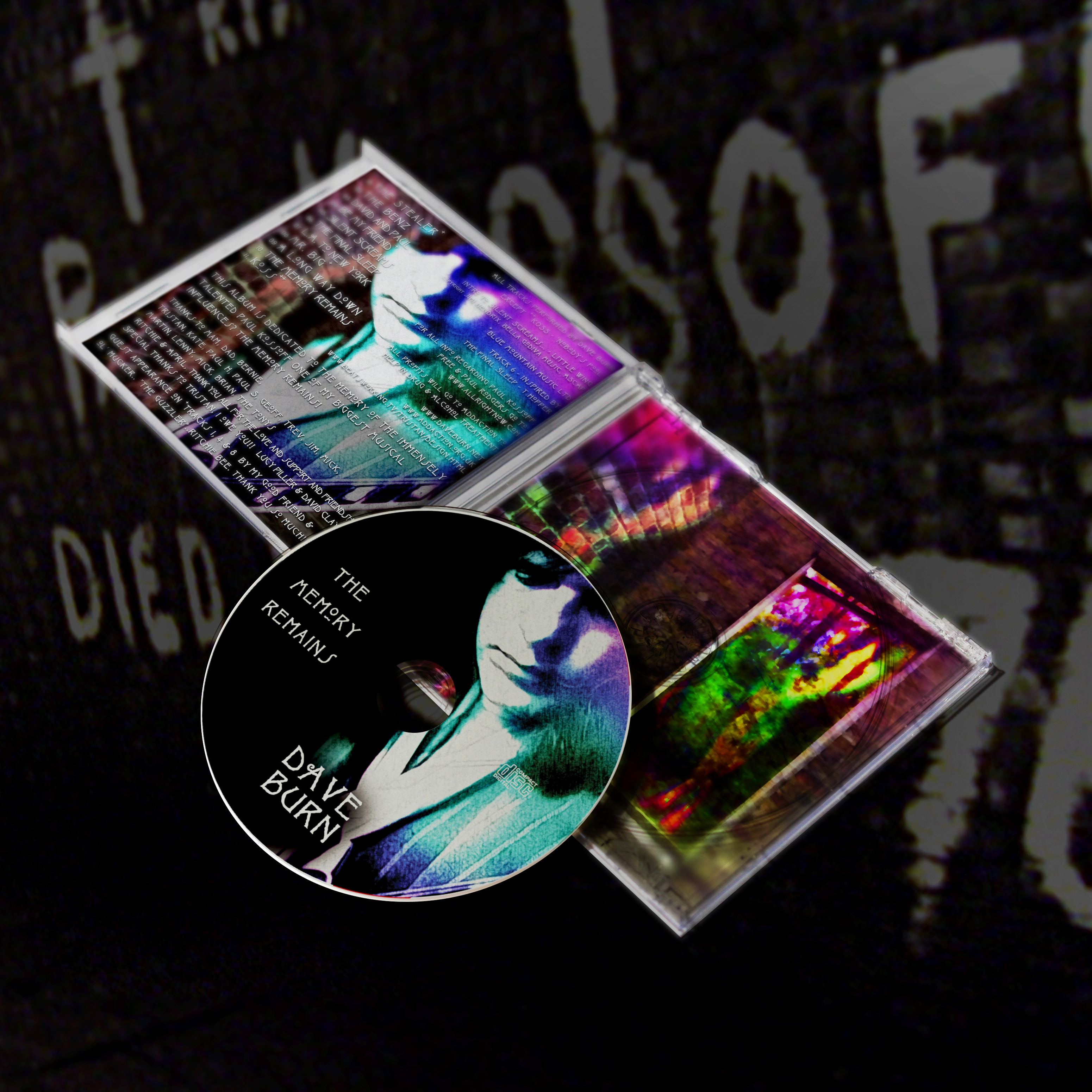 It was coming up to the 30th anniversary of the passing of Paul Kossoff, the guitarist with the band Free. A huge influence to me growing up and learning about music. So, I wanted to mark his passing but wasn't sure how. So, I thought I should record an album and show his influence on me and my playing.

I knew I wanted the cover photo as it hit me quite hard the first time I saw it. I contacted Lucy Piller for the Free appreciation website ARN and Bill Flynn who runs an annual Free convention in the North East of England to find out who took the photograph so I could get his approval. They, in turn pointed me to David Clayton, co-author of Heavy Load, the Free biography. He informed me that no one really knew who had taken the photograph but if the album was done respectfully then there probably would not be an issue. With that and the fact I was offering all profits to an addiction charity I asked Tristan if he could utilise the photo for the cover as a starting point.

The remaining artwork I left to Tris and he came up with a beautiful piece for the booklet, A wonderfully manipulated photo of Koss and a 'reflected' image for the J-card which I loved, reflecting my admiration for Koss.

Subtle yet beautiful artwork, perfectly advertises the album and all that was intended.